Circular economy: OCP shares its vision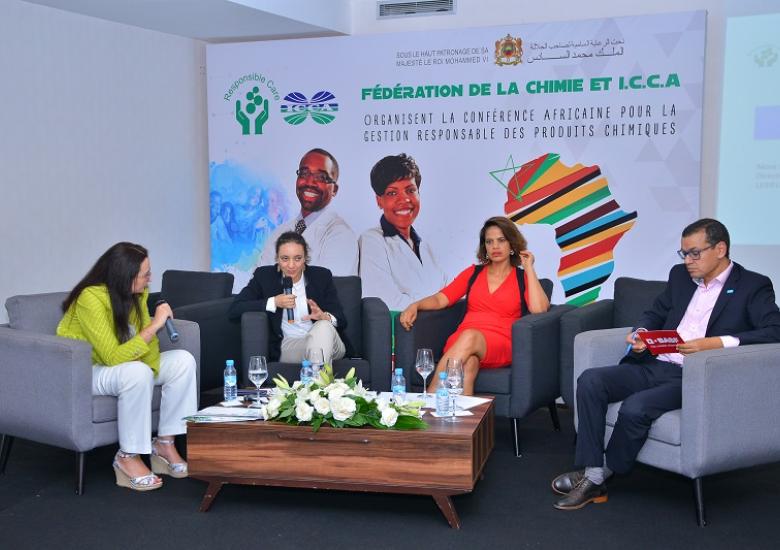 By launching its Circular Economy Program, OCP Group is not only looking to create a new green dynamic in the company; it also hopes to bring its environmental vision to its entire business ecosystem, major manufacturers, federations, associations, and other networks. This is why, in addition to promoting the initiative within OCP Group, the teams in charge of the program are seizing or creating opportunities to engage in interactions about the vision. This was recently the case at the African Conference on the Responsible Management of Chemical Products, as well as a few weeks before with the Swiss Chamber of Commerce in Morocco (CCSM).
OCP is forging a new path in launching its Circular Economy Program. Today, the company is no longer content to unite employees behind the program by promoting it internally; it also wants to share its experience and vision in the matter with external groups. The aim is not only to highlight OCP's sustainability commitment, but also to identify opportunities to collaborate with potential partners, establish benchmarks, and join with other industrial companies interested in following the same route.
In keeping with this, after several outreach activities, including at the Swiss Chamber of Commerce in Morocco and at the World Forum of Regions, Hanane Mourchid, Head of the Circular Economy Program, took part in the African Conference for the Responsible Management of Chemical Products recently organized in Casablanca by the Fédération de chimie et parachimie (FCP) and the International Council of Chemical Associations (ICCA).
This was the OCP representative's first opportunity to highlight the importance of this program for OCP as well as for the company's business ecosystem and the environment in which it operates. Remember that the world currently consumes 1.7 times the resources produced by the Earth. It is on the basis of this observation and other considerations that OCP Group decided to launch its Circular Economy Program. Through the initiative, OCP is meeting the challenge of making its development sustainable and bringing together all the elements of its economic and industrial ecosystem in order to create a new development dynamic in which the consumption of resources is more restrained.
In her address to the conference participants, Hanane Mourchid emphasized the Circular Economy Program's three main focuses, starting with resource conservation in the mining, enrichment, and processing stages. The second focus involves the customization and appropriate use of fertilizers, while the third concerns processing waste so that it can be used as a resource by OCP and its ecosystem.
Of course, as was pointed out in the presentation, OCP Group is not starting from nothing in launching its Circular Economy Program, given that the company has capitalized on all that has been done so far with respect to sustainable development in designing this more advanced vision, which is destined to turn the leader of the international fertilizer industry into a circular economy leader.
وسوم