As part of our farmer engagement programs in Africa, we have worked closely with farmers, big and small (often with the full support of development organizations and governments), to increase their yields while using less fertilizers.
Image
FOOD SECURITY
Food security is at the heart of OCP Group 's mission. As a leader in the fertilizer industry, the Group's role is to make quality food available throughout the world over the long term. 
Facing the challenges of population growth, climate change and a significant environmental footprint, the agricultural sector must change by developing products and practices that respond to the growing food needs in a more sustainable manner. 
The 4Rs (Right source, Right rate, Right time, Right place) is a customer-oriented approach to achieve this ambition.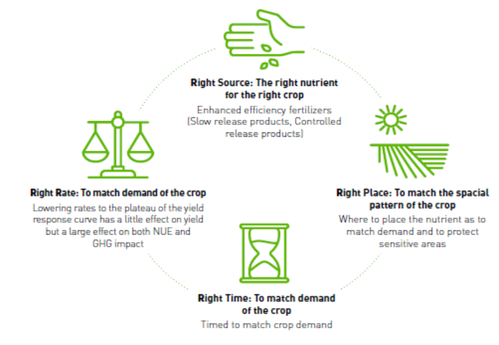 Image
FARMER ENGAGEMENT
With the firm belief that local contact with farmers makes it easier to support them and meet their needs, in 2018, OCP Group set up the Al Moutmir Li Khadamat Al Qorb outreach initiative.
It is one of the iterations of the Al Moutmir program, which acts as a concrete demonstration of OCP Group's commitment to developing the agricultural sector in Morocco. This translates into a multitude of offers, services,and technological solutions deployed as close as possible to the farmers.
Image
VALUE CHAIN
OCP Group puts the farmer at the heart of all the solutions it designs and deploys with the aim of reinventing farming to make it more resilient and more attractive. 
This requires better productivity of soils and crops, implying a best-in-class  product offer based on science and R&D. The Group also promotes the implementation of innovative solutions that create new ecosystems and deliver best agricultural practices.
OCP Group is therefore committed, on a daily basis, to work hand in hand with farmers, offering a multitude of offers, services and solutions: supplying the market, strengthening the farmer capacities and his ecosystem, developing and establishing a local system focused on the promotion of best agricultural practices and the transmission of theoretical and practical knowledge.
Image
CAPACITY BUILDING
As consumers of our products, farmers play an important environmental and societal role in the OCP Group value chain.
OCP Group aims to create farmer-oriented ecosystem by providing farmers with all means necessary to improve their yields. This means teaching best agricultural practices, testing soils, recommending fertilizers, facilitating financing, and improving market access
This approach is aligned with the following SDGs: