Guinean Minister of Mines calls on OCP for an expanded collaboration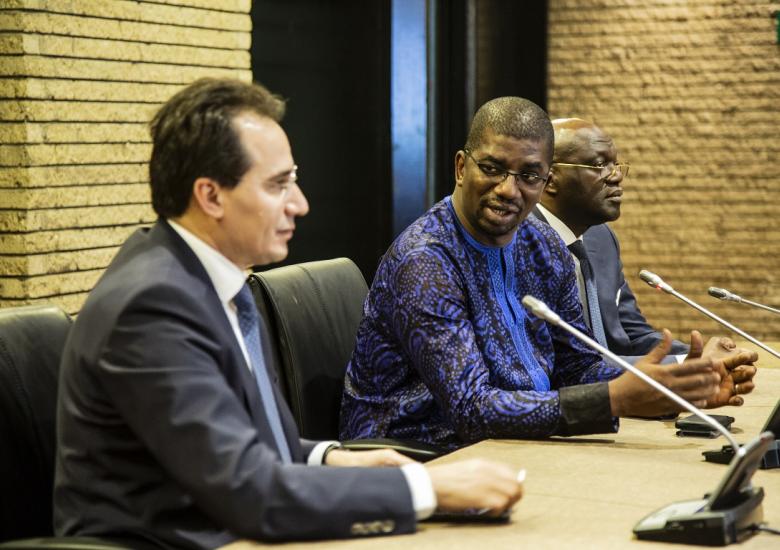 On Tuesday, May 14 in Casablanca, OCP Group's headquarters hosted an official delegation from the Republic of Guinea led by Abdoulaye Magassouba, Minister of Mines and Geology.
Received by Mustapha El Ouafi, Deputy Director-General of OCP Group, Minister Abdoulaye Magassouba expressed his thanks to OCP for its strong involvement, particularly in Guinea. He also called on the Group to extend this bilateral collaboration to the mining and industrial sectors.
The Guinean Minister of Mines and Geology was accompanied by a strong delegation composed of Aboubacar Kabgén, DDG of Guinean Heritage Mining Company (Soguipami), representatives of the Guinean ministries of Mines and Higher Education as well as representatives of the accredited Guinean diplomatic corps in Rabat.
As a reminder, the collaboration between OCP Group and Guinea, which dates back to 2014, was reinforced in 2017 following a signed memorandum of understanding for supplying the country with phosphate fertilizers adapted to the needs of local soils and crops. This agreement, which was on the sidelines of the Royal visit to Guinea, was also intended to support the Guinean government's desire to promote the socio-economic development of Guinean farmers, with the aim to achieve a double-digit growth rate in the agricultural sector.
In this respect, OCP has organized the agricultural caravan in several regions of the country. The Group has also trained 67 Guinean managers in the fields of fertility and soil mapping. In addition, it provided equipment for 3 soil analysis laboratories and soil mapping on a pilot area of nearly 250,000 hectares. In addition, 32 "Farms Fields Schools" (a demonstration platform) have trained more than 1,000 farmers.  
Tags