New R&D partnership for OCP Group and Hubei Forbon Group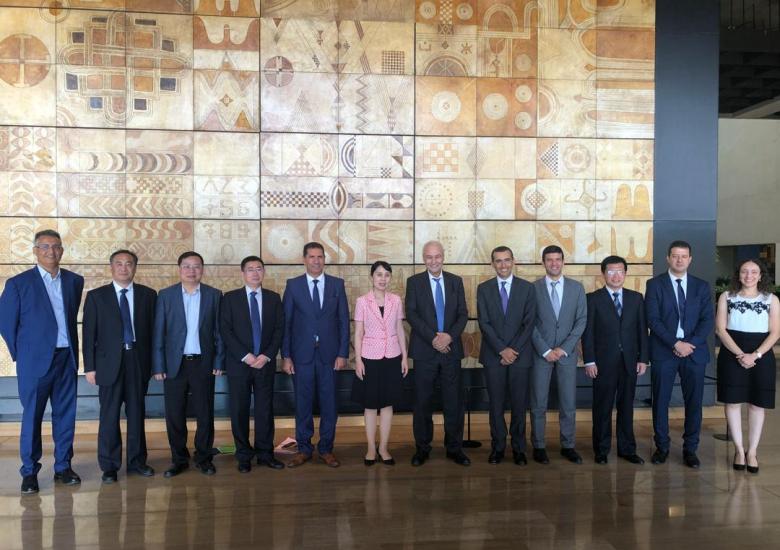 The two partners signed a framework agreement in the fertilizers industry for the co-development of a new generation of high added-value fertilizers and the promotion of a smart agriculture.
The creation of a joint R&D center is also being studied by both partners.
CP Group, a world leader in the fertilizers market, and HUBEI FORBON Group ("FORBON"), a Chinese company specializing in fertilizer additives, signed a framework agreement to establish a global partnership in the new generation of fertilizers. Both partners are also discussing the creation of a joint R&D center in China.
This partnership is also in line with the open innovation initiative launched by OCP to accelerate its ambition to become the world leader in agricultural integrated solutions.
The alliance with FORBON reflects OCP Group's will to strengthen its collaboration with world class industrials. It is an excellent opportunity to take part in a world class innovation ecosystem and build a network of referents and experts in the booming Chinese agriculture and fertilizer industries.
"As a part of our Open Innovation Initiative, we rely on an innovative ecosystem through the expertise of the best leaders in our areas of interest in order to build up co-development partnerships", said Mr. Iliass El Fali, Executive Vice President of Industrial Operations at OCP Group. He added: "FORBON is a world leader in coating for fertilizers and new products for smart agriculture. This partnership will allow us to combine OCP and FORBON expertise to develop new products and improve our offer in fertilizers. It is also an opportunity to access to the very dynamic ecosystem that the Chinese innovation represents".
For his part, Mr. Wang Renzong, CEO of FORBON, stated: "OCP is pursuing significant ambitions in the agricultural area and we believe that the Group will achieve its goals in the near future. For its part, FORBON has a strong expertise in smart agriculture, traditional and new generation of fertilizers. We believe in close collaboration between our two companies."
Towards a new generation of fertilizers:
This partnership will allow both companies to combine their expertise and know-how to develop a new generation of high added-value fertilizers (biostimulants, slow/controlled-release fertilizers, sulfur fertilizers, fertilizers with micronutrients, microbial fertilizers, water-soluble fertilizers, etc.).
One of the targets is to implement innovative solutions that meet the needs of the market and the farmers by providing custom solutions and formulations of fertilizers designed to be efficient and eco-friendly. OCP's efforts to develop precision agronomy are part of its farmer-focused policy to help farmers improving the quality and yield of their crops and thus their incomes.
A partnership for the development of smart agriculture:
OCP Group and HUBEI FORBON Group are willing to invest their efforts in smart agriculture that through the use of digitalization technology (new software and precision equipments) makes it possible to optimize fertilizer consumption to apply the right nutrients, at the right rate, at the right time and in the right place, improve water management, and significantly reduce the industry's ecological footprint.
A Joint R&D center to support the need for innovation:
As part of this partnership, both partners are discussing the creation of a joint R&D Center in China.
The joint R&D center will be dedicated to innovation and will benefit from an academic and industrial ecosystem and a relevant scientific diversity. It will address subjects directly related to the challenges that OCP Group faces in the areas of fertilizers and agriculture, and particularly the development of specific and integrated smart agriculture solutions.
Tags